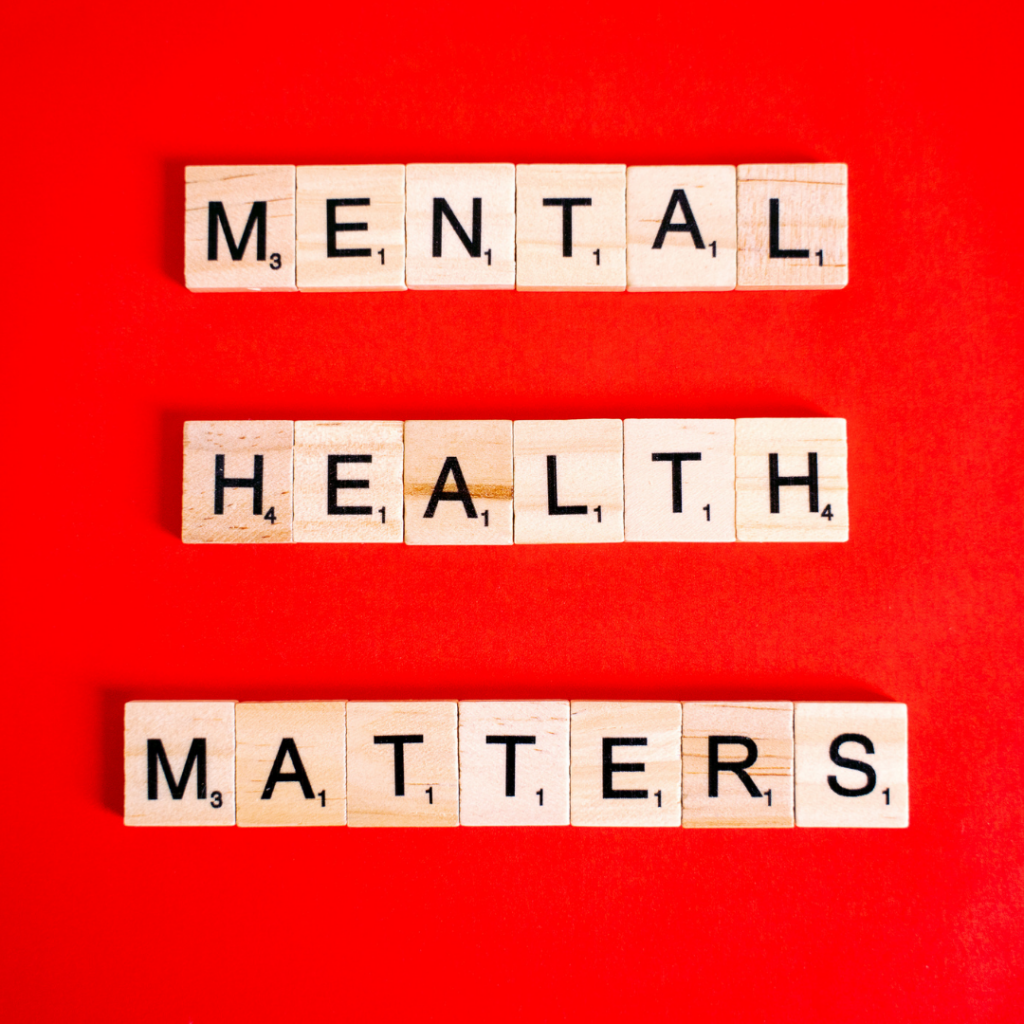 Posts may contain affiliate links. As an Amazon Associate, we earn from qualifying purchases and collect a small commission at no cost to you. This helps my blog to keep going. Thank you! For more info, read my disclosure policy.
How a pandemic can affect people's mental health
Living through a pandemic for over a year and a half has taken a toll on people's lives and mental health. Before the pandemic, we were enjoying life and then a change in how we live, entertain, travel, work, and gather with family and friends happened. A COVID virus attacked the world therefore in time our mental health was affected.
This virus was different from others we had encountered in the past. It transmitted easily from person to person and we weren't sure how to fight this. We had fought viruses before, but this one was puzzling to the scientists and medical communities.
Governors started shutting down businesses and we were on lockdown in our homes. We are a species that likes to socialize and move about without restrictions. Then the vaccines were available in 2021 and so we were all told if vaccinated our lives should get back to some sense of normalcy.
Unfortunately, the virus was mutating to a more dangerous and more easily spread Delta variant. Over the summer cases spiked and got out of control again.
The unvaccinated did not want to wear masks and a growing number were skeptical about the vaccine, making it harder to see the cases go down.
We were in an economic recession, where people were losing jobs and their homes, businesses were closing, all creating a negative effect on the mental health of so much of the population. People felt helpless and isolated and didn't see a positive solution in the near future. Certain communities were affected more than others.
Substance abuse, alcohol consumption, suicide, and domestic violence increased. It was hard enough in the first wave to be limited on what we could do and people were getting restless creating more anger, anxiety, stress, and depression.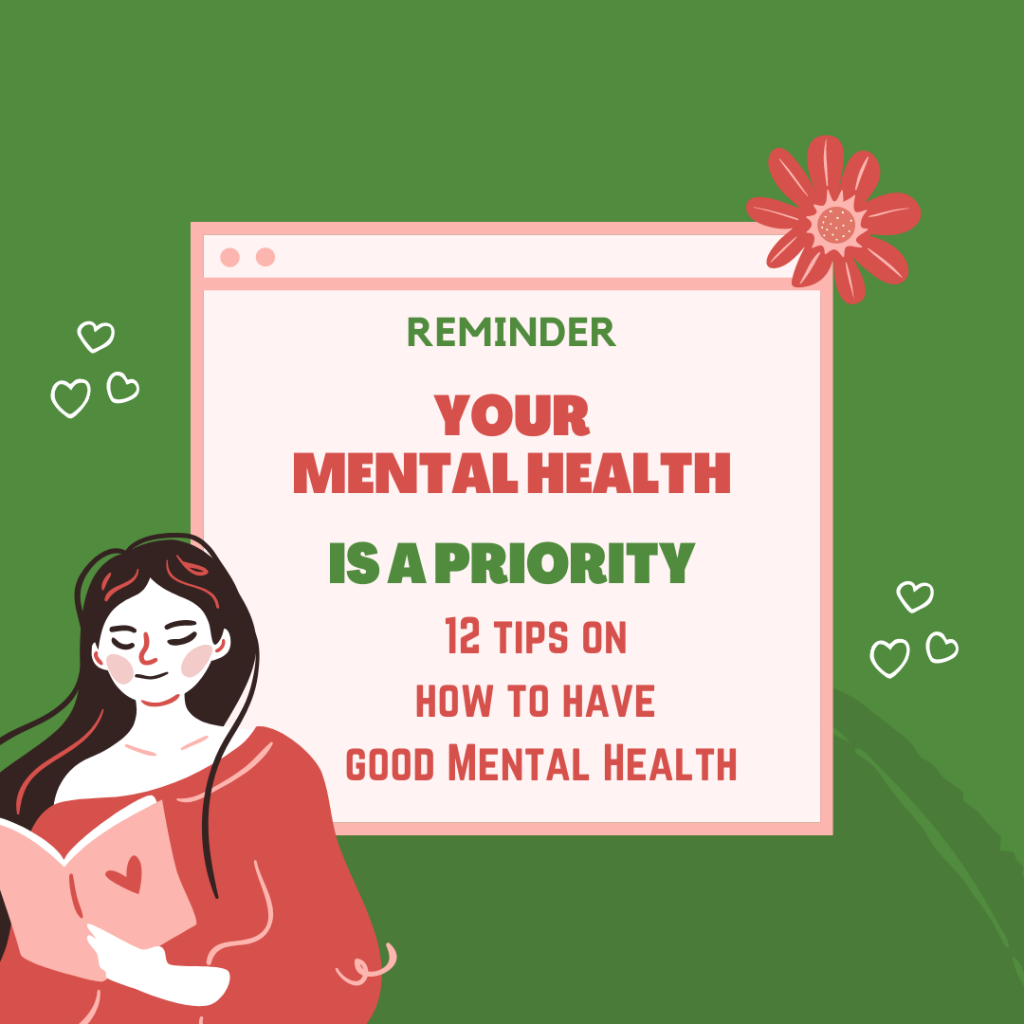 Get plenty of sleep
The amount of sleep we get can affect our emotions and moods and can lead to anxiety and depression.  For adults, it is recommended to get between seven to nine hours of sleep on a regular schedule for your mental health. Relaxing exercises such as yoga or gentle stretching can help promote sleep and good mental health.
Eat healthy food
Eating a healthy diet consisting of plenty of fruits and vegetables can help in managing our stress, improve our sleeping patterns, and increase our thinking abilities. Dark green leafy vegetables are brain protective. Nuts, seeds, and legumes, such as beans and lentils, are also excellent brain foods.
Eating a good breakfast can get your day off to a good start, improve your mood, increase your memory, and give you more energy. Going without breakfast can lead to fatigue and anxiety.
Bananas, berries, and oats can also boost your mood. Don't eat large meals, instead, try eating smaller portions spaced out more regularly.
Avoid foods that make your blood sugar rise and fall rapidly, such as sweets, sugary drinks, and alcohol. Stay hydrated or you might find it hard to concentrate and think clearly throughout the day.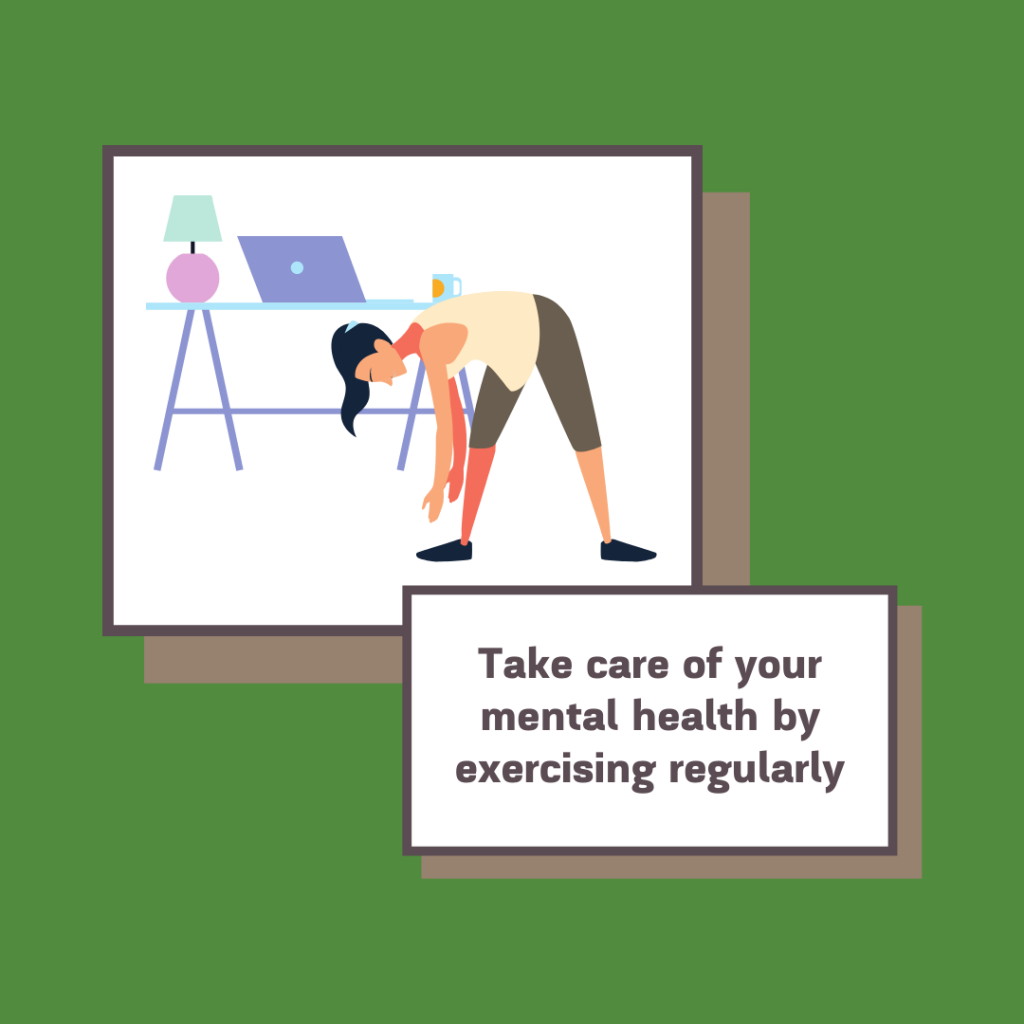 Exercise regularly
Regular exercise can improve your mental health by improving your self-esteem and giving you a sharper memory and thinking abilities.  Make exercise a social activity with family or friends.  You can keep each other accountable and socialize at the same time.
According to HelpGuide just 30 minutes of moderate exercise five times a week is enough. You can break it down into two 15-minute or even three 10-minute exercise sessions if that's easier.
Do what you can to manage stress
When you are feeling stressed, your muscles can become tense. Physical activity helps to relax the muscles and relieve tension in the body. Yoga has many popular techniques to reduce stress.
These are a few I have tried. Yoga is known to bring together the mind, body, and spirit. Studies have shown yoga can help reduce depression, increase a positive effect, and decrease stress.
Stretching exercises
Meditation
Controlled breathing
Find something you love to do to relax or start a hobby
Our dog loves to take walks with us, so we can all get our exercise. I love blogging and creating posts to help people find ways to deal with abuse, addiction, substance abuse, and codependency, in their households, and find the help or counseling they might need. I also love doing cardmaking and scrapbooking.
Socialize with family and friends
With COVID you have to approach socializing differently. The family that lives with me all wear masks when we leave the house to go shopping.

If it is a small gathering of people that are all vaccinated we will go visit them, and if we aren't comfortable we will wear our masks. We also can keep our distance and still visit and catch up. I still look forward to when we can go out and eat indoors and feel comfortable again.
Have a balanced life
Balanced living means all aspects of your life, such as relationships, work, fitness and health, and emotional well-being. We all get overwhelmed with work and family responsibilities from time to time, but taking time for self-care is what will help you have good mental health.
Create realistic goals and to-do lists
Keep a daily to-do list in front of you at all times to remind you of how to attain your goals for the day, personally and work-wise. Once this list becomes a habit you and your family will see life in a more positive way with harmony, reducing stress and frustration.
Have a positive mindset as that will help keep you focused on what you want to accomplish, even with obstacles that might arise.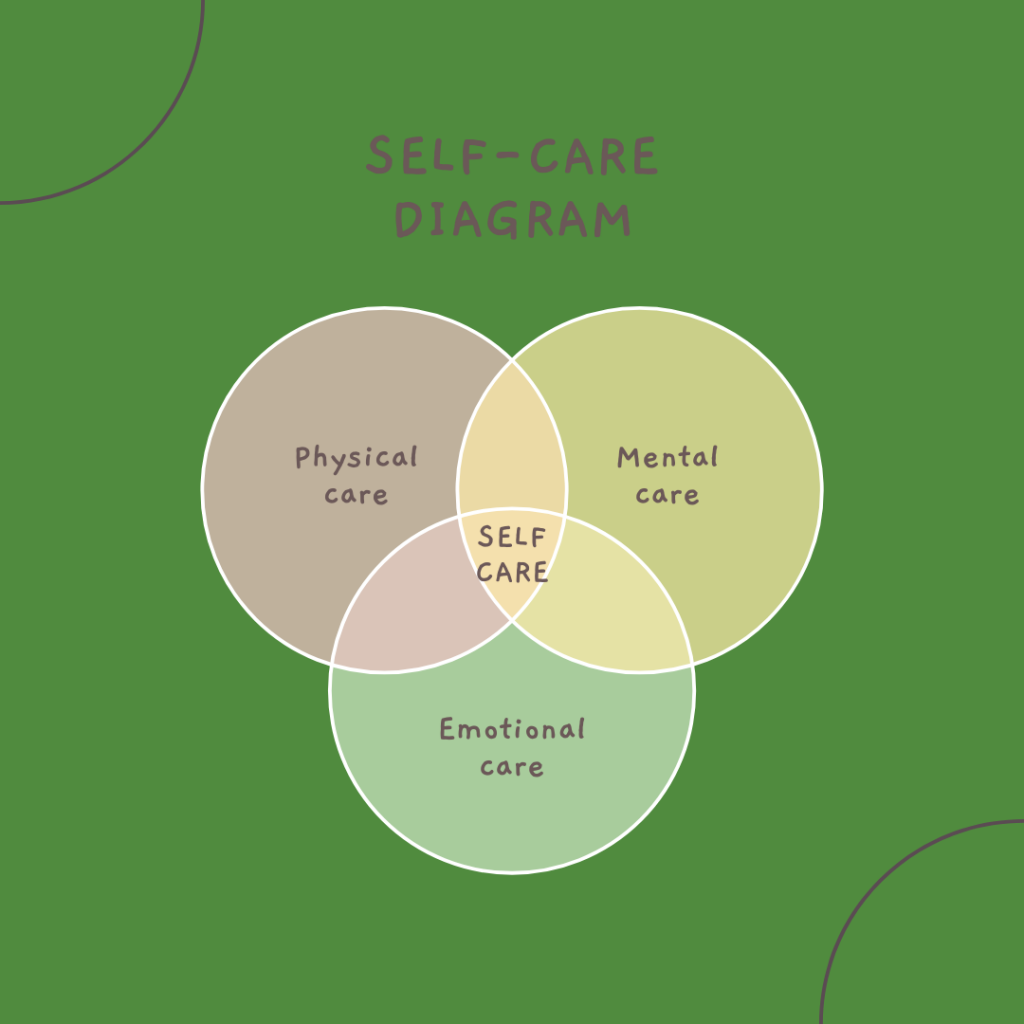 Have a self-care routine
Self-care is when you make an effort in order to promote your own physical, mental, and emotional health. If you take care of yourself, you will be a better partner and parent.
It makes it easier to find a solution for an obstacle or hardship that arises. When you're caring for all aspects of yourself, you'll find that you are able to operate more effectively and efficiently, and helps in dealing with the stress in your life.
Here are several tips on what to add to a self-care routine:
Get a massage
Listen to music
Read a book
Take a walk
Work in the garden
Meditate
Do yoga
Read poetry and inspiring quotes
Join a Bible study group and read the Word daily
Take a bike ride
Take a dance class
Have lunch with a friend
Call a friend
Limit your time on social media
Misinformation, hateful and misleading posts are on the rise, so limit or avoid social media completely if you feel you have symptoms of anxiety or depression. Instead, find platforms and ways that will direct you in a positive direction.
Call and get help, if you or someone you know are struggling with a mental health condition. I have a link at the bottom of this post, you can go to.
Read the Word daily
When I am stressed and feeling anxious, I turn to God and the Bible. I trust and believe in Him to help guide us in a positive direction.
It might not be in our time frame, as he knows what he is doing, and He just asks that we remain patient. If you read the Bible, you will have answers to your questions.
It is not always an answer you want, but it is the direction God wants you to take. He knows what is best for us. Having faith is what calms me down when obstacles arise. Build a relationship with Him.
Avoid alcohol consumption and substance abuse
Using Alcohol and drugs long-term can create changes in the brain which can lead to mental health issues including paranoia, depression, anxiety, aggression, hallucinations, and other problems. My older son is a recovering addict who has been using since he was in middle school.
For years he tried dealing with depression and had suicidal tendencies so he was finally admitted to an evaluation hospital. After being evaluated he was prescribed several different medications to regulate his depression and moods, so now he seems like a different person.
They did make adjustments to get the right combination of pills and he had a therapist and a sponsor to help him stay on the right track. I just hope and pray he can find the strength to continue on his new road to recovery!
If you have a family member who is going through depression and has suicidal tendencies, call an evaluation hospital that will help and get them on the right medications. It will give them a different perspective on life.
Just be patient as this process doesn't happen overnight and you need to continue to be a support system for them. I noticed many families alienated themselves from their addicted loved ones.
Look for the links at the bottom of the post for information on finding ways to get clean and sober, and fight depression and anxiety.
"Being vulnerable is actually a strength and not a weakness — that's why more and more mental health is such an important thing to talk about. It's the same as being physically sick. And when you keep all those things inside, when you bottle them up, it makes you ill."

— Cara Delevingne
Closing Thoughts
Our mental health should be our priority, and if you follow the tips above it can make life better and your outlook more positive. Don't feel like you are alone or embarrassed!
Mental health problems can affect anyone from all walks of life. Be sure and reach out to people who understand what you are going through, and will give you the support you might need.
The worse thing you could do is isolate yourself. The pandemic affected so many people and their mental health. If you or someone you know needs help, please call or share the link below to get information or talk on a helpline!
Disclosure: I am not a doctor or giving you professional advice, so see your doctor or contact reputable resources to get the help you need.
SAMHSA's National Helpline – SAMHSA's National Helpline is a free, confidential, 24/7, 365-day-a-year treatment referral and information service (in English and Spanish) for individuals and families facing mental and/or substance use disorders.
If you found this post helpful and found it to be informative, please share it with family and friends, and on social media. Leave a comment, by going to the comment section below.
Here are some other posts you might find useful:
How Addiction Affects Lives Of Everyone Affiliated With An Addict, Part 1
How Addiction Affects Lives Of Everyone Affiliated With The Addict, Part 2
My Son's Final Journey To Recovery
Addiction and Depression – A Way Out
Join my email list for my free newsletter and other posts on life journeys, located on the right sidebar
Visit my podcast Health Becomes Fitness
Subscribe to my YouTube channel
See you soon, Denise
Posts may contain affiliate links. As an Amazon Associate, we earn from qualifying purchases and collect a small commission at no cost to you. This helps my blog to keep going. Thank you! For more info, read my disclosure policy.
Here are some books on mental health, stress, anxiety, and depression that can be helpful