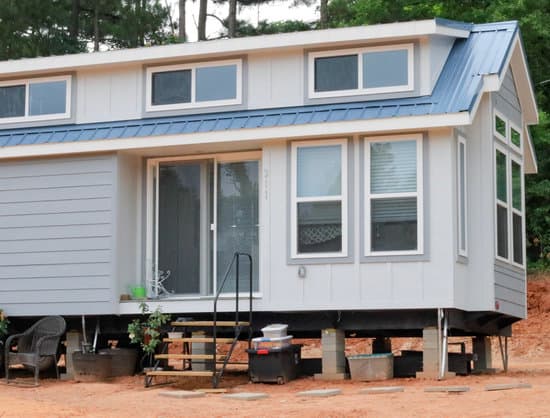 Posts may contain affiliate links. As an Amazon Associate, we earn from qualifying purchases and collect a small commission at no cost to you. This helps my blog to keep going. Thank you! For more info, read my disclosure policy.
Are you retiring or downsizing?
If you plan on downsizing to a tiny house when you retire and depending on how much equity you have in your home, you will probably have enough to pay cash for your tiny house, which will give you more freedom to travel or pursue a hobby or new adventure.
Do you want to downsize to something smaller and easier to maintain, and want the freedom to take your home with you when you travel? Do you want to move where there is land for your tiny house and additions when needed?
For several years before I retired I noticed the tiny houses that were showing up online. They were so cute and built to utilize the space wisely to make it a welcoming and comfortable environment. My husband is a big man so he was not interested.
You might want to start out by renting a tiny house for a while to see if it will be a fit for you or your family before you make the investment and move.
Most of us have moved several times in our lifetime, and throw out items we will not need or want once we move. Styles and color trends can change after several years and we might want different furniture to fit our new home.
It is easier to get rid of what you don't want before the move. You can have yard sales, and sell on Offer Up, eBay, and Marketplace to get extra money to buy what you want to replace the old. You can also donate to thrift stores and certain charities and have a write-off on your taxes.
Our neighborhood has a FREE neighborhood pickup once a year, so instead of going to the dump, you can leave it at your curb, for a set date to be picked up.
Clean out your closets and see what you can sell, give away or donate that you haven't worn in a while. There are many apps out there to sell just about everything you can think of.
Tiny houses are a popular trend
Tiny Houses are a popular trend. Many are several hundred square feet and can range from $10,000 to $100,000 depending on size, materials, amenities, and accessories. You can pay cash or pay through a mortgage company.

You will need good credit with a score of at least 700 to finance a tiny house and to be approved for an unsecured loan. A credit score of 640 or better, can get you a secured loan. Your interest rate will be lower with a better credit score.
Your cheapest option is to save up and buy your tiny house with cash. If you must use financing, ask about the different options available to see what would be better for your situation.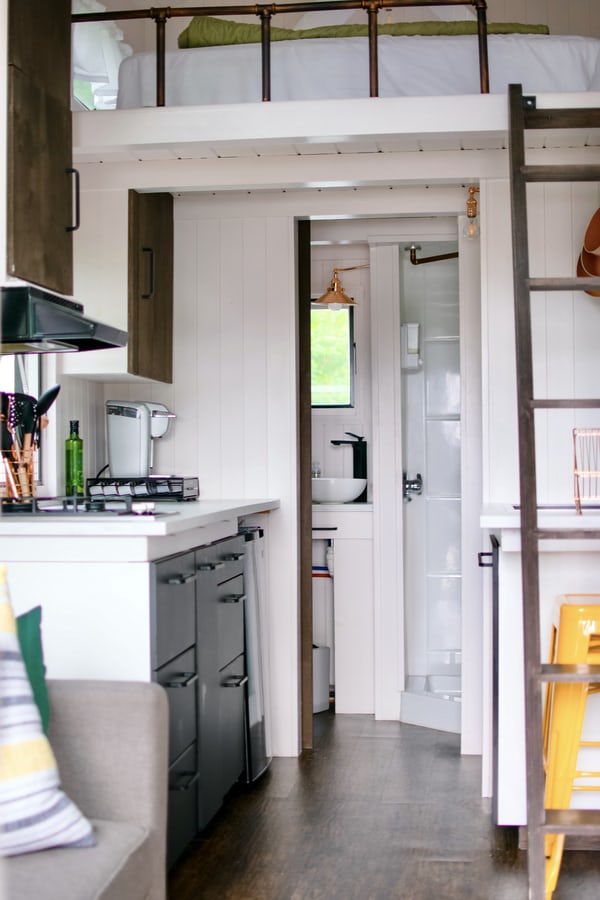 "The secret of happiness, you see, is not found in seeking more, but in developing the capacity to enjoy less." – Socrates
Popular builders
Tumbleweed Tiny House Company
You can build it yourself, have one built for you, or buy a pre-owned house. The best-known retailer of tiny houses is the Tumbleweed Tiny House Company, founded by Jay Shafer in 1999 and based in Colorado Springs, Colorado.
You possibly could cut your up-front costs significantly by buying a tiny house plan and building the house yourself. Plans for any of Tumbleweed's four models cost $759. In addition, Tumbleweed sells a how-to DVD for $60 and streams 3D tours on the website.
For more details click on numerous options that are included in the base price, but certain options add slightly to the cost, such as board-and-batten siding, front steps, replacing a window with a side door, or adding a screen door to your front door.
The delivery for a Tiny house if you live in Colorado is $1,160 and increases to as much as $4,560 on the East Coast. The trailer to put your tiny house on costs another $4,000 to $6,000, based on trailer length, regardless of the house model.
Tiny Home Builders
Tiny Home Builders, based in DeLand, Fla., and founded by Dan Louche, can sell you plans for a tiny house. If you want something between a DIY and a finished product they can sell you a shell of a tiny house that includes the trailer, framing and sheathing, and Rain & Ice Shield wrap and metal roofing.
For a little more money, your shell can include the windows, siding and trim, and electrical with a rough draft of your plumbing installation. You will have to finish the interior at an additional cost, on both shells.
Tiny Home Builders will also completely build a tiny house for you, right down to the appliances, which include air conditioning, an induction cooktop, a microwave, and a tankless water heater.
Finding land for your tiny house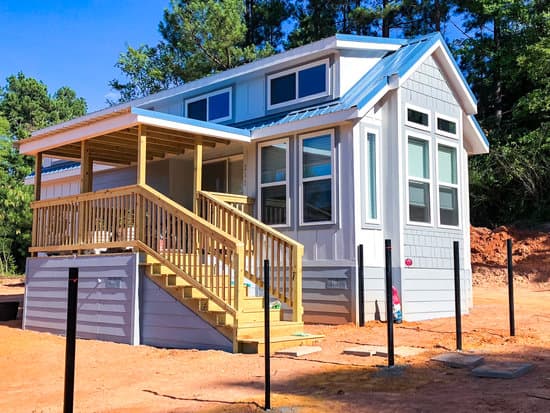 You will need to purchase land to put your Tiny House on, usually about a fraction of an acre. This could be a long process and as with a regular home, you will have ongoing expenses such as maintenance, utilities, and property taxes.
It is much easier to rent and you can always look for campgrounds and RV parks that are tiny house friendly. Talk to everyone and check all resources and connections you might have.
Be willing to work with the potential landlord and develop a good neighbor relationship. Try to find a spot that is not within sight of any neighbors or major roadways.
This way you have a better chance of staying good neighbors. Be patient and not overbearing if you have to wait to know if you are chosen as renters on the property.
Do research on living in the snow, places where tornadoes are prevalent, hurricanes, and flood zones. We live in California where wildfires are something we, unfortunately, have to deal with every year. Make sure you do all you can to prevent a fire from breaking out and have a plan for when this might happen.
The American Tiny House Association website is a good place to start learning about the local regulations that apply to tiny homes. You'll need land to put your tiny house on. How much land you want, where that land is located, and whether you rent or buy the land will determine its cost.
Most cities' zoning laws won't let you purchase a piece of land to put such a small dwelling on, so you're most likely looking at renting the land under your tiny house. The American Tiny House Association website is a good place to start learning about the local regulations that apply to tiny homes.
Good luck with finding your own land, if that is what you really want. Don't give up and put out all feelers!
Saving space in a tiny house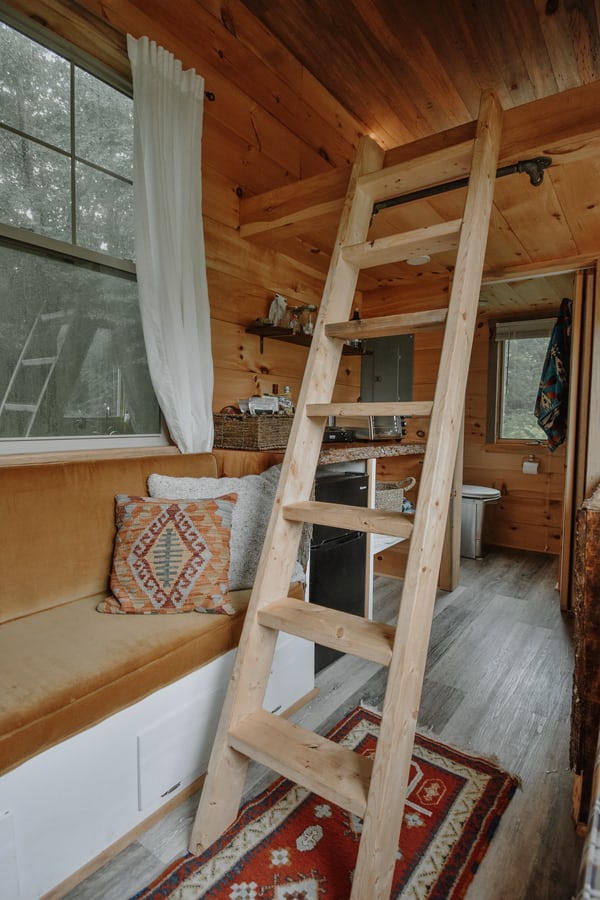 You won't be able to accumulate clutter as living in a Tiny Home will force you to become organized, or you won't be able to move around. Here are some ways to save space and stay organized:
Here is another link for more storage solutions, Microabode.com Tiny Living.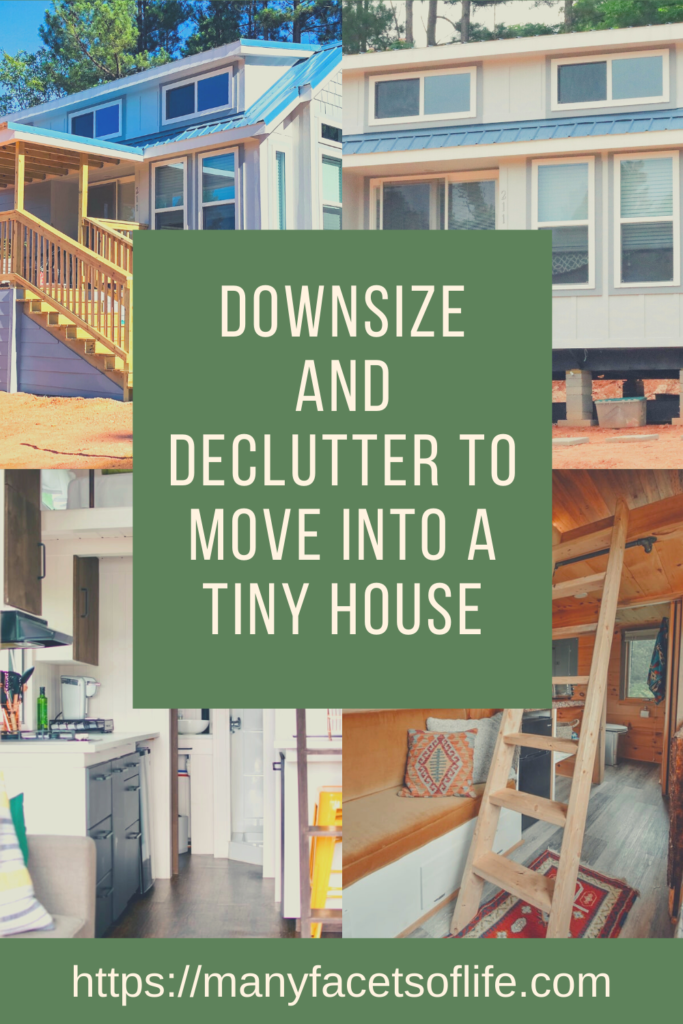 Closing thoughts
Make sure you do your research on all your options to see what works best for you financially in purchasing a tiny house and if you want to do the labor yourself or hire a contractor.
Go over your priorities and if time and peace of mind are more important, you might want to hire someone who is reputable, licensed, and bonded. I read the reviews and see if they are verified on every service or purchase we do.
Make sure you read and talk to other people who live in tiny houses to find out the pros and cons of uprooting and be willing to live on a smaller scale. As I mentioned earlier in this post, rent, or vacation in a tiny house for a week or two, to see if this might be the move you want to pursue.
If you found this post helpful and informative, please share it with family and friends and on social media. You can also leave a comment in the section below.
Here is a post on how to get organized – 7 Tips On How To Get Organized In 2020
Subscribe to my YouTube Channel
If you would like to see more of my posts, and news, and receive our FREE monthly newsletter, please subscribe on the right sidebar.
Visit my podcast Health Becomes Fitness
See you soon, Denise
Posts may contain affiliate links. As an Amazon Associate, we earn from qualifying purchases and collect a small commission at no cost to you. This helps my blog to keep going. Thank you! For more info, read my disclosure policy.